Share on Facebook
Share on Twitter
Share on Whatsapp
Share on Linkedin
Share on Email
Published Sept. 9, 2022, 4:13 p.m.
Unical protagonista a Genova nella conferenza sull'intelligenza artificiale
Il rettore Nicola Leone è keynote speaker e la ricerca del dipartimento di Matematica e informatica vince il Best paper award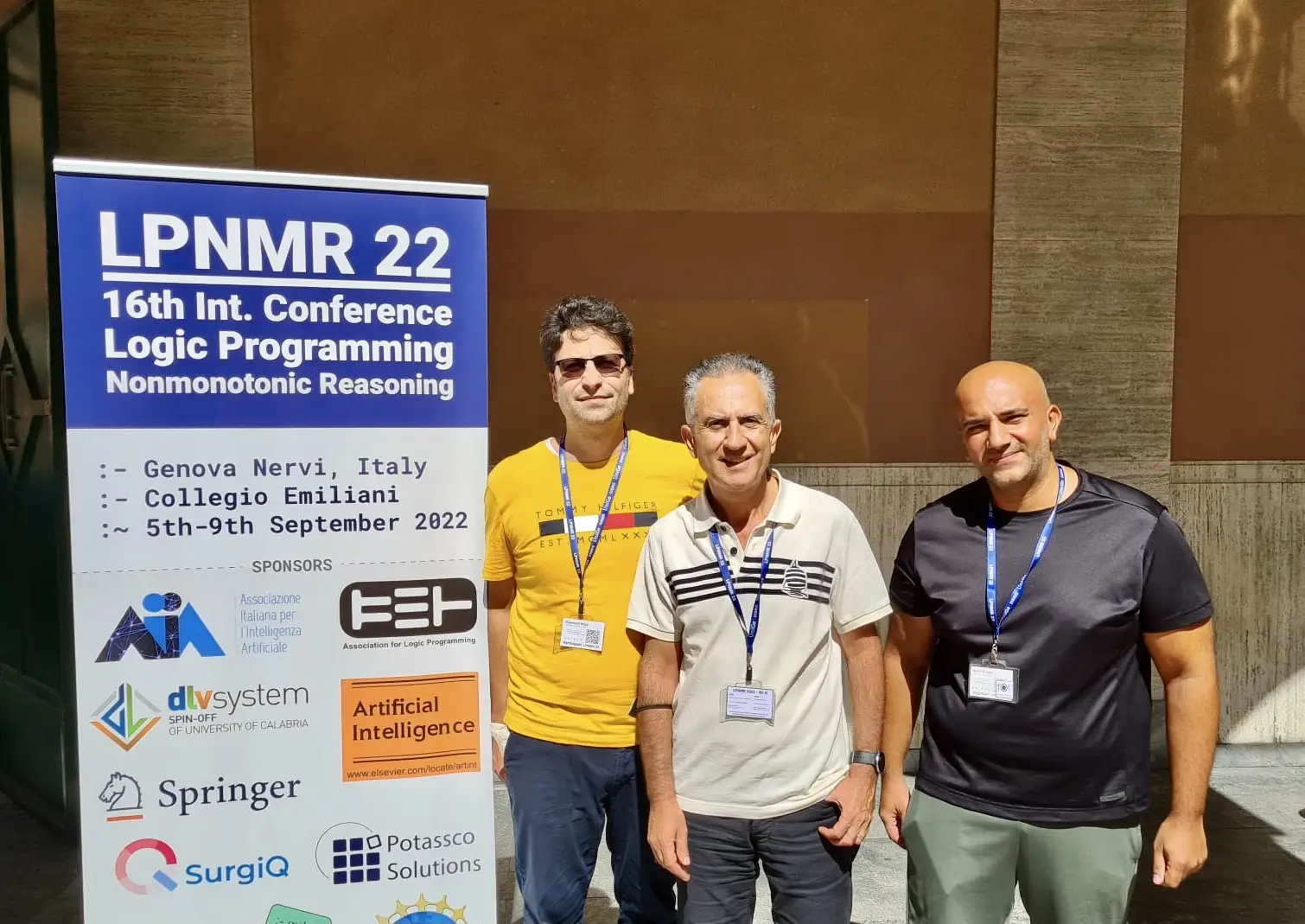 Il rettore dell'Università della Calabria, Nicola Leone, ha partecipato da Keynote Speaker (oratore principale) alla conferenza internazionale Logic Programming and Non-monotonic Reasoning di Genova. Un evento internazionale, giunto alla sua sedicesima edizione, su intelligenza artificiale, rappresentazione della conoscenza, programmazione logica e ragionamento non-monotono. Il comitato di programma, composto da 40 scienziati del settore provenienti da tutto il mondo, ha selezionato quattro massimi esperti del settore invitandoli a presentare le loro ricerche come Keynote Speaker: oltre al rettore Nicola Leone, sono stati nominati Stefan Woltran (Vienna University of Technology), Sheila McIlraith (University of Toronto) e Alessandra Russo (Imperial College London). Ciascuno dei 4 scienziati ha avuto un'ora per illustrare le ricerche nella sessione plenaria della conferenza.
Un altro riconoscimento, ancora più prestigioso, l'Unical l'ha acquisito al termine della conferenza, quando il comitato scientifico ha premiato Mario Alviano, Carmine Dodaro, Salvatore Fiorentino, Alessandro Previti e Francesco Ricca del dipartimento di Matematica e informatica con il Best paper award, ovvero il premio per la migliore ricerca della conferenza, per il loro lavoro dal titolo "Enumeration of minima modello and MUSes in WASP". Un ulteriore riconoscimento dell'eccellenza del gruppo sull'intelligenza artificiale costituito da Nicola Leone, che va a sommarsi ai numerosi premi italiani ed esteri già conseguiti dal team del dipartimento di Matematica e informatica, oggi diretto da Gianluigi Greco, che solo pochi giorni fa è stato insignito della fellowship dell'Asia-Pacific Artificial Intelligence Association. 
(fonte dipartimento di Matematica e informatica)
tags
leone Intelligenza Artificiale Dodaro Previti ricca Fiorentino Best paper Alviano
Published in
---